At Smith Water Systems Inc. we are dedicated to providing our customers with prompt and friendly service. We value your business and have made it our mission to provide reliable products and services in our customer-driven approach. Smith's is a family owned and run business, servicing Ontario for over 45 years! We have now gone mobile for your convenience.
We provide residential, industrial and commercial customers with help with their wells, pumps, water treatment and treatment equipment.
Our courteous, professional team is able to support a range of services to meet your needs.
To learn more about Smith Water, and the products and services we can offer, head on over to our
Contact Us page

Smith Water Systems is pleased to announce the merge of McCann Water Systems, who have been servicing the Georgian Bay area for over 30 years. It is with great pleasure, that Smith Water Systems welcomes McCann and every one of their clients to our family. We look forward to working with you all.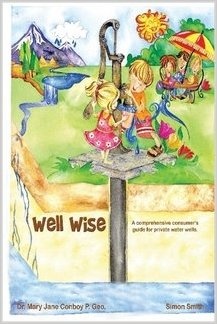 Aqua's Water Well Adventures
President and Owner, Simon Smith joined MaryJane Conboy in writing 2 books which provide kid-friendly information about wells and maintenance for all your water requirements:
Children can learn about the water cycle, groundwater and wells by following Aqua-the water droplet's quest for a nice place to live.
Well Wise - This provides private well owners with all the information they need to understand and properly maintain their water well.
Who We Belong To
Ground Water Association
Chamber of Commerce
M.O.E Well Contractor
Better Business Bureau